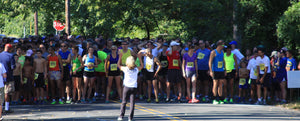 Bigelow Tea Community Challenge
Run (or walk) to help 23 local charities
For over 35 years, we've hosted the Bigelow Tea Community Challenge Run/Walk to help ensure 23 local charities can deliver important programs that provide educational services, food, housing, safe places, crisis counseling, and after-school tutoring and recreational programs to the most vulnerable populations within our community. Since its inception, the BTCC has provided more than $2 million dollars to local charities in Connecticut.
36TH ANNUAL BIGELOW TEA COMMMUNITY CHALLENGE
SUNDAY SEPTEMBER 24, 2023
Enjoy Highlights From the 35th Bigelow Tea Community Challenge
For more information contact: Janned Serrano, 203.330.2510

For more information about the Kids' Fun Run & KidZone Challenge Contact: Jennie Dorosh, 203.330.2505
For Race Director Contact: Marty Schaivone
36TH ANNUAL BIGELOW TEA COMMMUNITY CHALLENGE
SUNDAY SEPTEMBER 24, 2023
You will help benefit these charities
Bigelow Center for Senior Activities, Sandcastle Playground, Wakeman Boys & Girls Club, YMCA of Fairfield, Mercy Learning Center, Cardinal Shehan Center, Neighborhood Studios of Fairfield County, Center for Family Justice, Connecticut Food Bank, Operation Hope, Burroughs Community Center, Grasmere by Park, Caroline House, Bridgeport Rescue Mission, Janus Center for Youth in Crisis, Norma Pfriem Breast Center, Bridge House, CT Challenge, Taylor YMCA, Camp Hi Rock, Horizon's at GFA, McGivney Community Center, Pivot Ministries  
5k Run
Certified course along scenic Sourthprot harbor and historic district (Free supervised babysitting provided) 
Register Today
Kids' Fun Run
Plus tons of Fun Activities for kids age Pre-K thru 6th grade - Ribbon Awards, Face Painting, Balloon Characters, Temporary Tattoos, Princess and Action Figures and more...
Register Today
3k Fitness Walk
Non-competitive walk for individuals families and friends of all ages
Register Today
A big thanks to last year's sponsors
TITANIUM: Bank Of America | The Washington Trust Co. | IMA North America | JOH | KOF Kosher Supervision | Martin Bauer | Tea Importers | YES Network 

PLATINUM: Adamexpo | American Packaging | Boston Red Sox Foundation | C10 Media | Firmenich | Gunn, Godfrey & Allison | Glatfelter | Entercom Mets Radio 880 | Pulman & Comley LLC | Turnpike Spirit Shop | Van Rees | Ultra International | Westrock


GOLD: Connecticut Community Bank | Display Success |Alan & Betty Feldman | Ganeden | Green Shutter | Independent II LLC. | Kerry Ingredients | Meridian Trading | Packaging Corporation of America | PWC LLP | Valley Forge Captive

SILVER: Aromatics Botanicals | Bridgeport Hospital | Cosmed Group | Elite Spice | Hearst Media | Hollenbach - Oakley |John Hancock Retirement | Longo Electric | Marquette Associates, Inc | Service Master of Wesport | Seth & Suzzane Sholes | Zunda Group LLC

BRONZE:
All Points Social |Business Protection Service | City Carting & Recycling | Commerce Park Children's Dentistry | Creative Concepts | Edge Fitness | Donna Twist | Anne Foley | Luchs Consulting Engineers LLC | NBC | Pace Motorline | Packaging Unlimited | Security Services of CT | SNA Tea | Subway | Total Communications | Vidal Wettenstein LLC | Zwirneri a.d. Wutach Gmblf