Carefully Selected Ingredients
Each ingredient has been carefully selected by the Bigelow family to deliver an uncompromised quality tea experience. From premium tea leaves grown high in the misty mountain tops, to juicy California lemons, and sweet whole Chamomile flowers, because exceptional ingredients create extraordinary teas.
Sharing the Same Passion and Best in Class Standards
We believe in long standing relationships with our farmers that last for decades. Because premium quality, care, and ingredients make all the difference.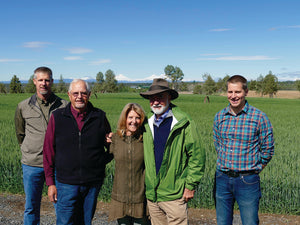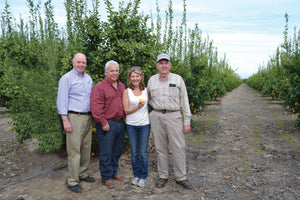 A Few of Our Favorite Ingredients
Black tea
Tea is at the heart of what we do and how our company began. The Bigelow family has passionately worked for decades to find optimal gardens with exceptional tea for each of our recipes. We prefer tea leaves from high elevation gardens in the misty mountain tops in places like India and Sri Lanka that produce some of the most extraordinary teas. The climate in these areas are perfect for developing deep nuanced flavors that are bold and well-rounded along with beautiful aromas. Black teas prolonged oxidation gives the leaves a darker appearance. We continuously taste and assess the flavor and sensory experience of our black tea to ensure it consistently meets the profile of our blends.
Only the Highest Quality Tea Leaves Will Do
Bigelow black teas are handpicked from high elevation gardens using only the top two leaves and a bud, which is the best part of the plant, to deliver exceptional quality and smooth robust flavor.
Green tea
Our green teas are truly one of a kind. We work very closely with our farmers in tea growing countries to select exceptional tea leaves that are perfect for our recipes. Once carefully selected, the tea leaves are heated using a very special processing method to prevent the oxidation into black tea. This allows the leaves to retain their green color. Our green teas are smooth and delicate, never too harsh or grassy.
America's #1 Green Tea
Our green teas have been carefully selected by the Bigelow family to deliver an uncompromised quality tea experience. One sip and you can truly taste the difference.
Mint
Our mint is 100% American grown in the northwest corner of the United States by a family company of multi-generational growers. When we set out in the early 1960s to develop a refreshing mint tea, this family demonstrated the same uncompromising care and craftsmanship we put into making our tea blends. 
Each year the father and son team expertly grow acres upon acres of the finest quality mint that is meticulously harvested only two times each year. The superior quality of their product, the cleanliness of their processing and the traceability of the mint from "crop to cup" are what make them ideal for Bigelow Mint Teas.
Refreshing Spearmint, Cool Peppermint
Our mint teas are grown in the Pacific Northwest by American Family Farmers and always deliver smooth, flavorful, and aromatic blends. Our mint is simply second to none.
Chamomile
Chamomile is a delicate flower grown all over the world and can have different taste profiles. Bigelow sources chamomile from North America which gives it an exquisitely sweet yet delicate flavor. The chamomile fields are high above sea level and filled with nutrient rich soil. Once they grow to optimal height, the flowers are hand cut and gently grouped together to dry. The attention to detail and dedication to quality continues as the farmers separate the pollen from stems and petals by hand to ensure a perfect blend for the perfect cup every time.
Let's get cozy
Whether the sole ingredient or combined with delightful citrus, fruit or mint, Chamomile's soft and delicate floral notes make it one of the most inviting and cozy herbal teas.
Oil of Bergamot
In the early 1970's, the Bigelow family set out to create a truly exceptional Earl Grey tea. Looking to blend rich black tea with the perfect bergamot, the Bigelow's began working with family-owned bergamot orchards in Calabria, Italy. Calabria is where 80% of the world's citrus bergamot fruit is grown and where the most premium quality, pure oil of bergamot is produced.
Today, we still work the with same third-generation family bergamot farms. Built on a 40 year partnership, they remain dedicated to expertly growing citrus bergamot fruit using natural methods from orchards that have been in existence for over 80 years. Equally important, is their skill for harvesting the proper-size fruit at the peak degree of ripeness and then carefully processing it so that the integrity of the fruit is not destroyed.

Part art, part science, the processing of this early fruit requires impeccable timing and demands great skill to maintain the integrity and flavor, protect the subtle nuances and achieve the proper balance of more than 100 flavor components that are inherent in the bergamot fruit.
This gently pressed pure bergamot oil is considered the cream of the crop, and Bigelow Tea buys 100% of this coveted "first cold pressing" to achieve the unparalleled, velvety-smooth flavor and invigorating aroma that makes Bigelow Earl Grey the #1 selling Earl Grey tea in America.

A Recipe Like No Other
We use 100% real bergamot oil because flavor matters. No flavorings. No shortcuts. Just invigorating aroma and bright citrus taste.
Lemon
Lemon peel is a key ingredient in 23 of our family lemon tea recipes, so finding lemons with the perfect blend of sweetness and tartness is essential. We found those tasty, sun-kissed lemons in a family-owned Central Valley California grove and we've been working with the same family for over 30 years.
Having started their groves in 1947, their depth of knowledge has been perfected to include state-of-the-art processes that fully utilize every bit of the valuable fruit that their extensive ranges of lemon trees produce. From growing to juicing to milling to zesting, virtually no part of this precious fruit goes to waste. 
All our lemon peel is 100% grown in the USA to meet strict USDA, FDA and California standards.
Juicy Golden Lemons
Our lemon teas are bright zesty blends full of citrus flavor that taste simply delicious.